Please Note: All products presented here are items that we either own ourselves and/or we strongly endorse.  It's our belief that you deserve to know why a product or service appears on our site.  If you should ever have an issue with anything purchased on our site, please be sure to let us know.  Although we can't guarantee all purchases directly, we want our visitors to be satisfied with the items presented here.  The vendors we select have a reliable tract record of customer service. Please share your experiences with us…good, bad or otherwise!  That being stated…Thank You For Your Support!
Education
Cheesemaking 101 – Online Video Series taught by Melissa herself – learn in the comfort of your own home.  Watch the videos online 24/7 .
Products
Best Water Filter For Your Home In 2019
World Leader in Water Purification – Berkey Water Filter – Our family has been using this incredible water filter for over ten years. After researching this subject extensively, we settled on the Berkey because it simply delivers clean, refreshing, great tasting water with no hassles. We go through 4-6 gallons per day for drinking and cooking and filter changes are approximately once a year or less depending on your usage. This should be considered a "Must Have" to combat the assault on our water supply whether you're on a well or city water supply. Get your Berkey today and you'll be glad you did!
Crisis Garden – Heirloom Seeds (No GMOs) As you many know we grow most of our own vegetables right here at Heart of the Garden Farm…however we've found it important to have a back up plan (and even if you weren't born with a green thumb and you couldn't even get a Chia Pet to sprout let alone grow a tomato plant, it makes sense to have seeds for possible barter?)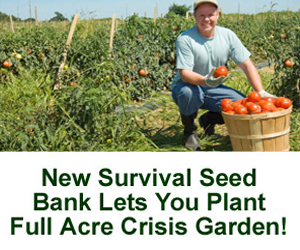 Emergency Food Storage – This is a 2-DVD set of instructions on food storage and preparations. The videos aren't going to win any awards for production (as I can attest from watching them myself), however it also comes with a written guide which has very useful information. Food storage really should be considered an on-going process anyway and not just viewed as for "emergencies only". It's very economical and a great way to ensure high quality food availability whenever you want it at your fingertips…

Solar Power Generator – You don't have to live in Florida like we do to benefit from solar energy. This handy backup power source taps into the sun's energy and stores it in a battery array to provide power when the clouds aren't cooperating. If you're looking for something to power your entire household and get off the grid, this ain't it, however it will give you enough juice to power a few small items when you need it most. Besides, it's portable!